Disaster equipment for journalists
Here is some reccomended emergency equipment for jounalists and videographers or Active Travelers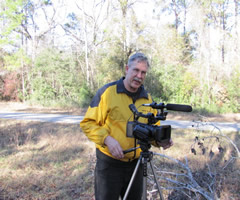 If your a Journalists, Field Correspondents or Videographers

,

Pilots

Expatriate Professionals

,

Corporate Executives

, Disaster Relief Workers

,

,

Educators Students Abroad

,

Vacationers and Tourists

,

NGO Volunteers and

,

Contractors

,

OCONUS Government Staff

.
Field Safety quick tips
Don't put yourself at risk take personal safety security training like Alphacorps executive travel security program. An untrained person can become a burden to emergency crews and colleagues.

Teams should work in teams of at least two and preferably three people during disasters one team member should carry a small first-aid kit and emergency bag and communication equipment.

Monitor road and other travel conditions and keep each other informed of changing conditions. Evacuation routes should be planned and updated as needed. Have a extraction plan for removing individuals at risk.

Press vehicles should be equipped with emergency gear, including a first-aid kit, road flares, and blankets. Know where to obtain emergency rentals of vehicles, and communication equipment.

Equipment sugguestions.

Waist Pack or carry kit in a vehicle should consider carrying these things.

GPS Satellite phone is prefered but costly.

Drinking Water Purification Equipment

and

Collapsible 1-liter Water Bottle

Compass and Thermometer

Small First Aid Kit and Over the

Counter Medications (Includes pain relievers, antiseptics, anti-diarrheal, antihistamines)

Multi-Function Headlamp

preferred led for long life and small battery size.

High Intensity Flashlight with strobe

Multi-Tool by Leatherman

Small tanto type knife

Mylar Lightweight Blanket

if in cold climates apprpriate sleeping bag.

Hidden Waist-side Pouch

I prefer the one that fits inside your pants not the external pouch.

Waterproof Bag for Currency, Passport and Cell Phone

Handgun, Money or Passport

Fire Starter

of some type

550 Multi-Strand Cord

Nylon trout line is great.

Small solar charger

to recharge

Lithium Batteries for all Electronic Devices

By Alphacorps security experts.